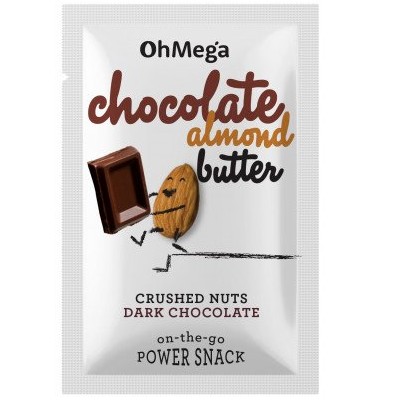 Oh Mega
Chocolate Almond Butter 10g Power Snack
This is a truly decadent nut butter spread that's high in nutrients and loaded with energy; a great breakfast-time treat for growing kids. Oh Mega's new Chocolate Almond nut butter is made with ground almonds, cocoa, a little sugar and nothing else! This is a smooth and creamy spread that's high in protein and packed with the essential vitamins and minerals found in real almonds. Great on toast or sandwiches, a delicious dessert topping and even a tasty indulgence straight off the spoon.
Availability:
No artificial colours, flavours or preservatives

No milk or dairy; suitable for those with lactose intolerance
Almond nuts are loaded with nutrients and have great health benefits for growing, active children.
Source of bone-building calcium & phosphorus

Antioxidant-rich (source of vitamin E), for better heart health

High in fibre for healthy digestion

Source of healthy fatty acids & protein
Almonds, 71% dark chocolate (organic cocoa paste, sugar, organic cocoa butter)
There are no user reviews for this product