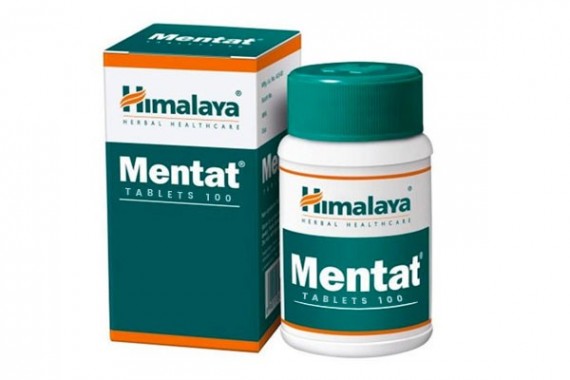 Himalaya
Mentat Tablets
Channelizes mental energy. Mentat enhances memory and learning capacity. The natural ingredients in Mentat improve mental quotient, memory span, and concentration ability.
Neuroprotector
Anxiolytic
Adaptogenic
From

R 100.00
from 100 King Coins
Open an account and receive a 5% discount on your first purchase
Himalaya Herbals Mentat 50 – Double Deal
Channelizes mental energy
Mentat from Himalaya Herbals is formulated to channel and improve mental energy, using the natural properties of three key ingredients, thyme-leaved gratiola, Indian pennywort, and Winter Cherry. Mentat helps the brain to maintain cognitive function; balance amino acids, which assists in treating depression; and stabilise the mood of those suffering anxiety and depression.
Indications:
Learning disorders such as ADD and ADHD ( Attention Deficit / Hyperactivity Disorder)

Attention fluctuation, concentration impairment, language and learning disability

Memory Learning aid – Improves short and long-term memory, mental functioning, prevents cognitive deficits.

Behavioral disorders – hyperkinetic states, asocial behavior, temper tantrums, aggressive behavior, enuresis

Anxiety and stress-related disorders

Mental fatigue

Senile dementia

As an adjuvant in Alzheimer's and Parkinson's disease

Supportive therapy in mild to moderate mental retardation

As an adjuvant in epilepsy and post-stroke aphasia
Action:
Enhances memory and learning capacity: The natural ingredients in Mentat improve mental quotient, memory span and concentration ability.

Treats neurological disorders: Mentat reduces the level of tribulin, an endogenous monoamine oxidase inhibitor that is elevated during anxiety. The calming effects of Mentat are beneficial in treating insomnia and convulsions.

As an adjuvant in neurological diseases: Due to its anticholinesterase, dopaminergic-neuroprotective (important neurotransmitter in the brain), adaptogenic and antioxidant properties, Mentat is useful as an adjuvant in the treatment of epilepsy and enuresis.

Thyme-Leaved Gratiola (Brahmi) maintains cognitive function. Well known for its nootropic (memory enhancer) effect, the herb enhances memory and learning. It is also known to calm restlessness and is used to treat several mental disorders.

Indian Pennywort (Madhukaparni) possesses antiepileptic properties and is commonly used as an adjuvant to epileptic drugs. It balances amino acid levels, which is beneficial in treating depression. It also prevents cognitive impairment.

Winter Cherry (Ashvagandha) is used as a mood stabilizer in clinical conditions of anxiety and depression. Withanolides, the chemical constituents present in Winter Cherry, possess rejuvenating properties. The herb also reduces oxidative stress, which can cause mental fatigue.
Dosage:
From 18 months : 1 tablet 2 x a day
Adults: 2 tablets 2 x a day
Also Available as a syrup.
Side effects:
Mentat is not known to have any side effects if taken as per the prescribed dosage.
Vitamins & Supplements

Type

Brain Health

Stress & Sleep Support

Size

Choose an Option

50 Tablets

100 Tablets

100ml Syrup

200ml Syrup
EACH TABLET CONTAINS:
EXTRACTS: Bacopa monnieri 136mg, Centella asiatica 70mg, Withania somnifera 52mg, Evolvulus alsinoides 52mg, Nardostachys jatamansi 52mg, Valeriana wallichii 50mg, Embelia ribes 50mg, Prunus amygdalus 50mg, Acorus calamus 42mg, Terminalia chebula 36mg, Emblica officinalis 36mg, Tinospora cordifolia 36mg, Celastrus paniculatus 32mg, Oroxylum indicum 32mg.
POWDERS: Bacopa monnieri 80mg, Mucana pruriens 18mg, Elettaria cardamomum 18mg, Terminalia arjuna 18mg, Anethum sowa 18mg, Ipomoea digitata 18mg, Withania somnifera 18mg, Zingiber officinale 14mg, Terminalia belerica 14mg, Myristica fragrans 14mg, Syzygium aromaticum 10mg, Mukta pishti 3mg.
There are no user reviews for this product