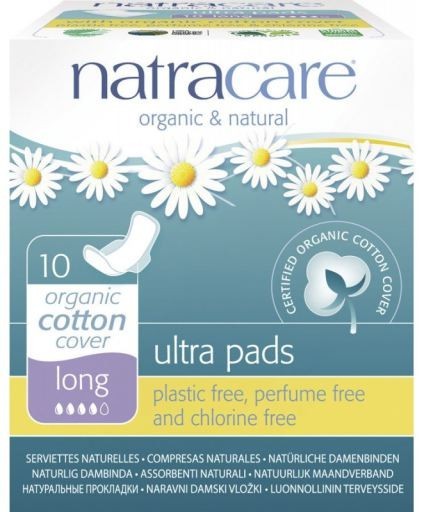 Natracare
Natracare Organic Cotton Ultra Pads With Wings (10) - Long
Ultra Pads Long with Wings for heavier or overnight use whilst still super slim & discreet.
National Delivery (Express and Standard Delivery Available)
Before 10am order, next day delivery.
Delivery Costs Calculated at Checkout.
Availability:
Natracare pads are made from only certified organic 100% cotton and are the only fully certified organic cotton tampons available in the world today. They are non-chlorine bleached and women can be reassured that they do not contain synthetic materials, such as rayon, or chemical additives such as binders or surfactants. Certified organic cotton removes the risk of direct exposure to residues from chemical pesticides and fertilisers used on traditional cotton. Furthermore the pads do not contain polyacrylic absorbents or have plastic covers that lie next to the skin, both of which can cause irritations. Many women have found relief from irritation when changing to Natracare sanitary products.
Ingredients:
100% Cotton, certified organic by the Soil Association, non-chlorine bleached, biodegradable
There are no user reviews for this product