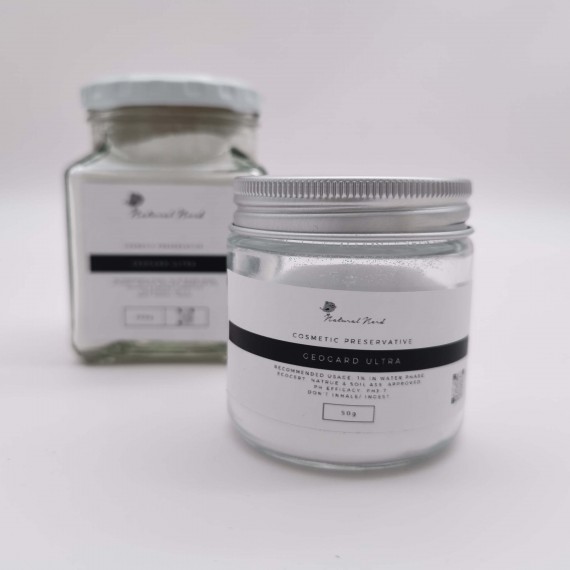 Natural Nerd
Geogard® Ultra (Lonza)
Broad spectrum cosmetic preservative.
Globally accepted.
ECOCERT approved for organic cosmetics.
Suitable for vegan cosmetics.
Paraben free.
Biodegradeable.
Not tested on animals.
Non-GMO.
From

R 142.50
from 143 King Coins
Open an account and receive a 5% discount on your first purchase
Ingredients: Gluconolactone and Sodium Benzoate.
Geogard® Ultra (by Lonza) is a broad spectrum cosmetic preservative that has been approved by ECOCERT/COSMOS, NATRUE and Soil Association for use in natural, vegan and organic cosmetics. It uses an organic acid, sodium benzoate, as the main preserving agent. It is a water-soluble white powder which is added to the water phase of a formulation.
Geogard® Ultra can be used effectively over a wide pH range of 3 to 7 , and can be added at both room and elevated temperatures. It can be used to preserve both leave-on and rinse-off products like creams, lotions, hair conditioners, as well as pH corrected shampoos, shower gels and body washes. If the product contains water-soluble ingredients and is within the acceptable pH range, then Geogard® Ultra may be used. Geogard® Ultra is fully compatible with a wide variety of formulation ingredients as well as most types of cationic, nonionic and anionic systems. However, Geogard® Ultra will not be effective in anhydrous (oil-based) formulations, since it is not oil soluble.
Recommended usage rate: 1% (in weight).
At the recommended usage, 50g of Geogard® Ultra can preserve up to 5kg of product, and 200g of Geogard® Ultra can be used to preserve up to 20kg of product.
How to use:
Always measure Geogard® Ultra by weight (g, kg etc.)
Do not inhale. Wear a dust mask when handling Geogard® Ultra.
Avoid touching Geogard® Ultra.
Add 1% of final formulation weight to the water phase.
Always store your products in sterilised containers, and manufacture your products in a disinfected environment to prolong the efficacy of the preservative.
Recipes by Natural Nerd:
Additional Information:
INCI:

Gluconolactone and Sodium Benzoate

Density:

0.74 g/cc

Solubility: Water-soluble
Packaging:
50g size is packaged in a 100ml glass jar with an aluminium lid.
200g size is packaged in a 250ml glass jar with a white metal lid.
Paper label.
Size

Size

200g

50g

Option

Option
There are no user reviews for this product