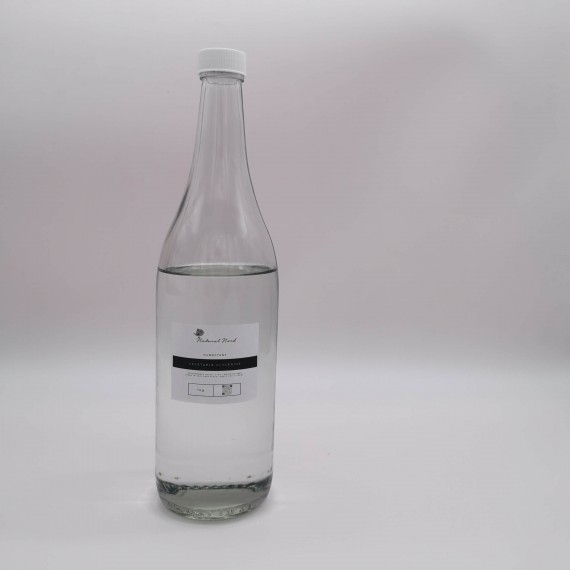 Natural Nerd
Vegetable Glycerine (BP Grade)
Pharmaceutical Grade.
Minimum 99.7% Pure.
Vegetable-based.
Natural Emollient (Moisturiser).
Hypoallergenic.
Suitable for natural cosmetics.
Water soluble.
Recyclable packaging.
Available in two sizes: 100g and 1kg
From

R 50.00
from 50 King Coins
Open an account and receive a 5% discount on your first purchase
Natural Nerd's vegetable glycerine is BP grade, which means that it conforms to the standards set out by the British Pharmacopoeia in terms of purity and lack of contaminants. It is a minimum of 99.7% pure. This product is suitable for food, cosmetic and pharmaceutical applications.
Vegetable glycerine is a clear, odorless and sweet-tasting sugar alcohol derived from various plant oils. It has the consistency of syrup.
Vegetable glycerine is an excellent natural moisturiser, skin softener and lubricant. Glycerin is used in personal care products such as soaps, toothpaste, shaving cream, and skin/hair care products to provide smoothness and lubrication. It is also a well-known humectant that prevents the loss of moisture from products so they don't dry out quickly.
In natural cosmetics, it is often used to hydrate gums, like xanthan gum, before adding them to creams and lotions. It may also be used to make glycerine extracts known as glycerites, which are typically used to colour cosmetics naturally, and is also one method of adding plant extracts into cosmetics without alcohol. Glycerine is mild enough to be used on most skin types as it is hypoallergenic (i.e. it won't irritate skin) and non-comedogenic (i.e. it won't block pores).
Recommended usage: Due to it's sticky consistency, it is recommended to use a small amount of vegetable glycerine in leave-on products like creams and lotions - a maximum of 15%, but recommended usage at 5%. For glycerites and extracts, use 90% vegetable glycerine.
Shelf Life: Once opened, vegetable glycerine should be used within 12-18 months.
Applications: Skin care, Hair care, Vapourising in E-Cigarettes, Herbal Preparations, Cooking & Baking.
How you can use this product in cosmetics:
Stir in a few drops or teaspoons to your store-bought creams for extra hydration.
Add a few drops or teaspoons to rose water or witch hazel for a homemade toner.
Combine a mixture of 90% vegetable glycerine and 10% botanical ingredients to make a plant extract. Allow to infuse for 1 week, and then strain.
Add 5% to water phase of creams and lotions for added moisturising benefits.
Combine 3:1 vegetable glycerine and xanthan gum, and then add to the water phase for improved product stability and thickness.
Recipes by Natural Nerd:
Packaging: Glass bottle with recyclable HDPE plastic lid, and a paper label.
Caution: Don't consume undiluted vegetable glycerine in large quantities. Consuming too much vegetable glycerine — either alone or through foods — may cause dehydration, headaches, dizziness, nausea, vomiting, excessive thirst, gas and/or diarrhea.
Size

Size

100g

1 kg

Option

Option
There are no user reviews for this product