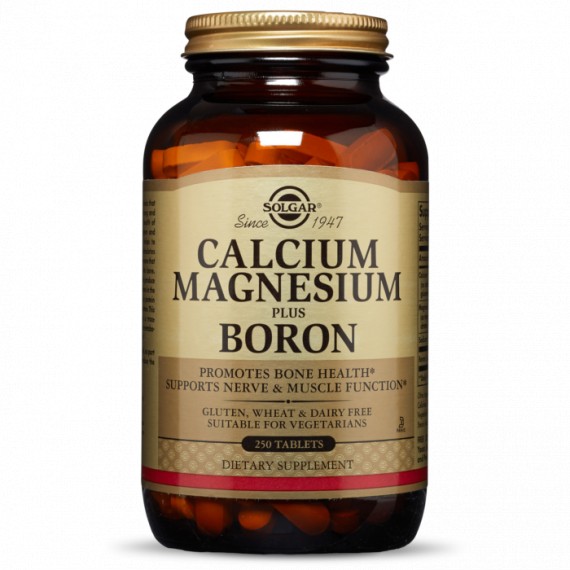 Solgar
Calcium Magnesium Plus Boron Tablets - Pack of 250
Convenient way to supplement with these key nutrients, for healthy bones, teeth, muscles and immune support
Supports muscle and nervous system function
Supports energy release and reduces tiredness
Vegetarian, Vegan and Kosher
3/day Vegetarian, Vegan, Kosher, Dairy Free, Gluten Free
Open an account and receive a 5% discount on your first purchase
Solgar has given you all three, calcium magnesium and boron to ensure maximum absorption. Together this complex supports and promotes healthier bones in the body. 90% of our bones consist of calcium. Bones are continuously being broken down and built up. Calcium also supports the health of the heart, musculoskeletal and nervous systems. Calcium deficiency can cause rickets, muscle spasm, twitches and pre-eclampsia. Magnesium's influence on calcium metabolism and regulation has been suggested to prevent calcium deposition in soft tissue, such as kidneys. This calcium regulation may be supportive in reducing kidney stones or calcification of arteries. It is believed that magnesium is almost, if not as important as calcium in bone and teeth health. Boron is an essential trace mineral. The body needs it for normal growth and health maintenance. It may also improve the bodies ability to absorb calcium and magnesium. Boron has been shown to support joints, especially joints affected by osteoarthritis, osteoporosis, rheumatoid and juvenile arthritis. Boron assist in balancing hormonal levels and prevents blood clotting.
General

Product Type

Vitamins & Supplements

Type

Nervous System Support
Calcium (as carbonate, gluconate, citrate), Magnesium (as oxide, gluconate, citrate), Bulking Agents: (microcrystalline cellulose, maltodextrin, citric acid), Glazing Agents: (hydroxypropylmethyl cellulose, vegetable glycerin (from palm kernel oil and coconut oil)), Cellulose Gum, Boron (as boric acid), Anti-caking Agents: (vegetable magnesium stearate, vegetable stearic acid), Colour: titanium dioxide.
There are no user reviews for this product