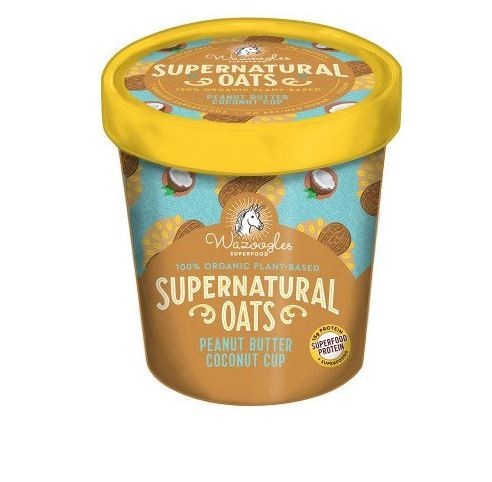 wazoogles
Supernatural Oats Pot - Peanut Butter Coconut Cup 105g
The alchemists at Wazoogles have transformed the humble oat breakfast into a superfood sensation with the Supernatural Oat Pots. The Peanut Butter Coconut Cup oats combine the beautifully complementary flavours of roasted peanuts, with coconut, and cacao nibs. Just add hot water, a splash of nut milk and enjoy an instant oat breakfast packed with vegan protein.
Delivery Costs Calculated at Checkout.
18 g of vegan protein per pot
Supercharged with complex carbohydrates to keep your energy high
Amazing texture combinations
Packaged in fully recyclable cardboard, and foil lids
Labels printed with soy based vegetable ink
All ingredients are certified organic
Gluten free
Vegan
Superfood Spotlight:
Roasted Peanut Powder is a superb source of plant based protein
Toasted Coconut Smiles are a sumptuous source of plant based protein, and are also very high in fibre
Cacao Nibs are rich in theobromine which has powerful anti-inflammatory properties, and increases blood flow to the brain.
Directions:
Simply add hot water, cold water, or nut milk
Care Instructions:
Store in a cool, dry place
Specifications:
Oat Pots: 105 g
Ingredients:
All Organic: Gluten Free Rolled Oats, Roasted Peanut Powder, Toasted Coconut Smiles, Sun-Dried Sultanas, Yacon Rolled Cacao Nibs, Mesquite, Raw Dates, Coconut Blossom Sugar, Salt, Chia Seeds, Lucuma, Raw Maca Root, Raw Hemp Seed Powder, Cinnamon
Typical Nutritional Information:
Typical Values per 100g per 105g
Energy (kcal/kJ) 399/1670 420/1759
Protein (g) 17,1 18
Glycaemic Carbohydrates (g) 51,6 54,4
Of which Total Sugar (g) 20,6 21,7
Total Fat (g) 11,7 12,3
Of which Saturated Fat (g) 5,7 6
Dietary Fibre (g) 12,4 13,1
Total Sodium (mg) 122 128
Country of Origin:
Made in South Africa
There are no user reviews for this product