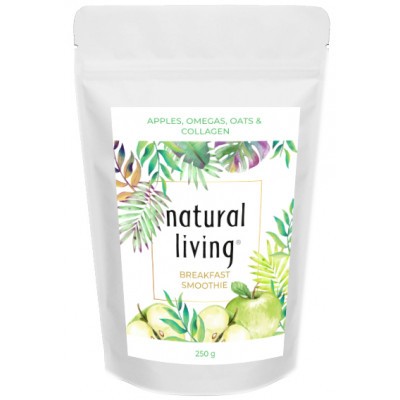 Natural Living
Collagen Breakfast Smoothie Mix 250g
Anti-aging
High in Antioxidants and omega 3
Fights inflammation and relieves joint pain
Promotes deeper sleep
Promotes skin hydration, hair and nail nourishment
Omega can reduce ADHD in children
Boosts metabolism and improves eye health.
R 269.04
R 283.20
269 King Coins
Open an account and receive a 5% discount on your first purchase
Natural Living Breakfast Smoothie Mix is a blend of 25% collagen, 35% flax and chia seeds, 20% gluten free oats 15% apple with a hint of cinnamon. Whizz up 2 tablespoons together with milk of your choice or add to your cooked oats, muesli or yoghurt. Apple is a superfood rich in vitamin C and A. It has a high fibre content that works wonders for your digestion and antioxidants that fight free radicals in your body. Omega 3 from flax and chia seeds have health benefits for your body and brain. They lower your blood pressure and keep your heart healthy.
General

Product Type

Collagen

Natural Haircare

General

Product Type

Powder

Vitamins & Supplements

Type

Collagen

Product Type

Type

Collagen
Pure Grass-fed Collagen, Gluten free oats, Apple powder, flax seed powder, chia seeds, cinnamon, maltodextrin (anti- caking agent).
There are no user reviews for this product