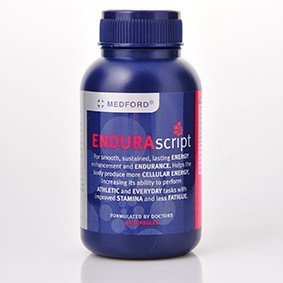 Medford
EnduraScript Veg Caps 90
For smooth, sustained, lasting energy enhancement and endurance. Helps the body produce more cellular energy, increasing its ability to perform athletic and everyday tasks with improved stamina and less fatigue.
Delivery Costs Calculated at Checkout
For smooth, sustained, lasting energy enhancement and endurance. Helps the body produce more cellular energy, increasing its ability to perform athletic and everyday tasks with improved stamina and less fatigue.
INDICATIONS:
• To increase energy.
• For improved stamina and endurance.
• Natural energy support for sports people.
• Energy enhancement for students during study periods.
• To improve motivation and focus.
• Support for Epileptic, Autistic and Down-Syndrome patients.
General

Product Type

Capsules

Category

Type

Vitamins & Supplements
There are no user reviews for this product