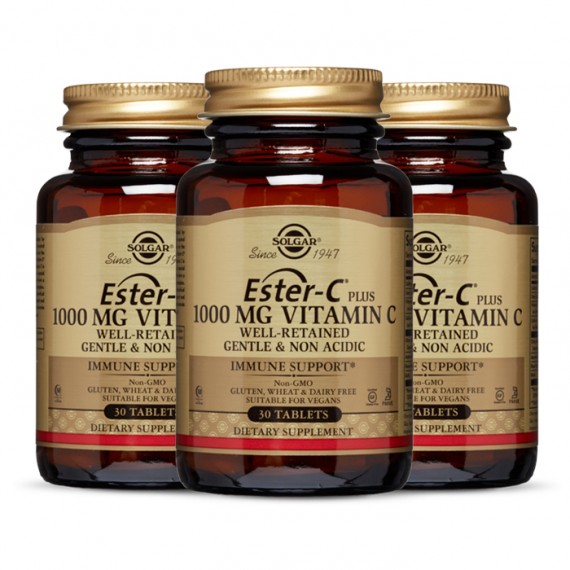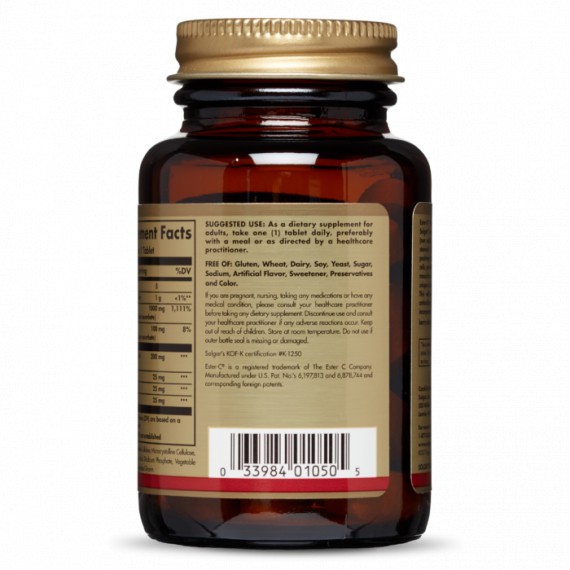 Solgar
Ester-C Plus -30 Veg Caps 1000mg - 3 Pack
Immune System Support
Ester-C Plus is a patented formula that's exclusive to Solgar. It provides a pH-neutral form of vitamin C that's non-acidic ad gentle on your stomach. This is a great supplement for boosting immunity, fighting off colds, and giving your body antioxidant support. Solgar Ester-C also helps to improve the retention of vitamin C your cells, so it's especially effective.
R 627.95
R 661.00
628 King Coins
Open an account and receive a 5% discount on your first purchase
Ester-C is essentially a highly PH neural and absorbable form of Vitamin C. This makes less irritating for your digestive trace. Solgar's patented ingredients allow the Vitamin C to also be properly metabolized, whilst also being easily digested. Vitamin C has many positive benefits for our immune systems. It can be taken to fight off colds and flus as well as hayfever. Blood pressure levels can also be lowered while supplementing on Ester-C.
Special pH-neutral vitamin C supplement
Non-acidic, ideal for those with sensitive stomachs
Made using a special process to form a unique metabolite complex, which helps with vitamin C retention in the cells
Promotes a healthy immune system & helps to ward off common bugs
Includes powdered acerola berry & rosehip, which are high in antioxidants
The Solgar difference:
Made according to The Solgar Gold Standard™ which ensures quality & purity
Easy to digest & absorb
Dairy-free & gluten-free
Sugar-free & sodium-free
Suitable for vegans & vegetarians
Kosher
No artificial colours, flavours or sweeteners
Directions:
Adults: Take one tablet daily, with meals.
Caution:
Keep out of reach of children.
If you are pregnant, breastfeeding, taking medication or have a medical condition, consult your healthcare practitioner before use.
Do not exceed the recommended dosage, unless under the supervision of a healthcare practitioner.
Specifications:
30 tablets
Vitamins & Supplements

Type

Vitamins

Combos

Immune Support
Serving Size: 1 Tablet
Amount Per Serving
% DV
Calories
5
Total Carbohydrate
1 g
<1%**
Vitamin C (as Ester-C® calcium ascorbate)
1000 mg
1,111%
Calcium (as Ester-C® calcium ascorbate)
100 mg
8%
Citrus Bioflavonoid Complex
200 mg
***
Acerola
25 mg
***
Rose Hips (fruit)
25 mg
***
Rutin
25 mg
***
**Percent Daily Values (DV) are based on a 2,000 calorie diet***Daily Value (DV) not established
Ingredients
Vegetable Cellulose, Microcrystalline Cellulose, Silica, Vegetable Stearic Acid, Dicalcium Phosphate, Vegetable Magnesium Stearate, Vegetable Glycerin.
Free of
Gluten, Wheat, Dairy, Soy, Yeast, Sugar, Sodium, Artificial Flavor, Sweetener, Preservatives and Color.
There are no user reviews for this product