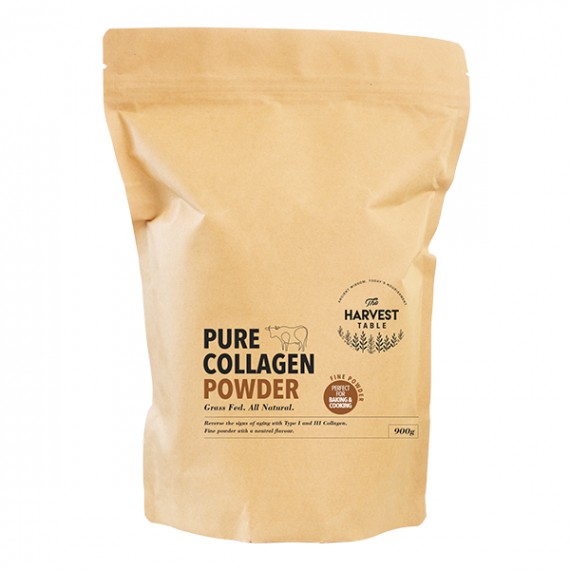 The Harvest Table
Pure Collagen Powder 900g - Refill
Contains types I and type III collagen
Powerful natural joint and cartilage support
Halal certified
R 852.15
R 897.00
852 King Coins
Open an account and receive a 5% discount on your first purchase
Our Grass-Fed Collagen Powder is made from the hides of cattle raised in pastures in Germany. It tested at 90% protein and provides both types I and type III collagen which are the major components in skin, hair, nails, muscles, tendons, ligaments, bones, gum, teeth, eyes and blood vessels. Our Collagen Powder is 100% pure and contains no fillers, preservatives or additives.
Both our Collagen Powder and Granules are Grass-Fed and 100% pure products containing no additives, preservatives or fillers. The Collagen Powder is finer than the Granules and has a neutral flavour. Dissolving the Collagen Powder requires some stirring and because of the fine texture of this product is does well in baking.Mix 2 tablespoons per serving into coffee, water, a shake or your favourite smoothie. You can enjoy more than one serving a day.
Our Refill Bags are made from wood fibre cellulose and are 100% Compostable according to European Standards. EN13432. Certified Compostable.
Our Collagen powder is certified Halal.
General

Product Type

Collagen

Vitamins & Supplements

Type

Collagen

Hair, Skin & Nails

Bone & Joint Health

Type

Type

Beef

Powder

Product Type

Type

Collagen
Serving size 1 heaped TBS (16g). You can enjoy up to 3 servings per day.
This product is safe for consumption during pregnancy and breastfeeding.
Nutritional information per 100g:
Total Fat 0g
Cholesterol 0g
Sodium 279mg
Glycaemic Carbohydrates 0g
Dietary Fiber 0g
Total Sugars 0g
Protein 90g
Hydrolysed collagen sourced from Germany
There are no user reviews for this product